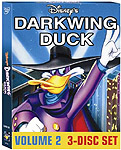 Basic Info
Yep, yep, yep, the next volume of Darkwing Duck on DVD is coming out. I can't tell you how long I've waited for it. I've practically worn holes in my old, recorded-in-the-pre-cable-days VHS tapes. Here's what you can expect, courtesy of the kind soul who sent me a press release.
The set will have 27 episodes on 3 discs. The episodes are:
All's Fahrenheit in Love and War
Whiffle While You Work
Ghoul of My Dreams
Adopt-A-Con
Toys Czar Us
The Secret Origins of Darkwing Duck
Up, Up and Awry
Life, the Negaverse and Everything
Dry Hard
Heavy Mental
Disguise the Limit
Planet of the Capes
Darkwing Doubloon
It's a Wonderful Leaf

Twitching Channels
Dances with Bigfoot
Twin Beaks
The Incredible Bulk
My Valentine Ghoul
Dead Duck
A Duck by Any Other Name
Let's Get Respectable
In Like Blunt
Quack of Ages
Time and Punishment
Stressed to Kill
The Darkwing Squad

Aspect ratio: 1:33.1 Formatted 4x3
Sound: Dolby 2.0 Surround Sound
Languages: English, French Audio
No word yet on the extras. I'll post that info when I get a copy to review.
---
Try before you buy! Macromedia Flash required.
---
Well, Amazon has the Darkwing Duck DVD box set Volume 2
for $31.49, shipping is free. And if you don't already have it, you can also snag the Darkwing Duck DVD box set Volume 1
for $23.49, and it's also eligible for free shipping.
---
Finally, here's the whole press release, in case you want to spread the word yourself!
Darkwing Duck Volume 2
Perfect for Summer Vacation, 3-Discs and 27 Episodes of the Emmy® Nominated Animated Series
Available for the First Time on DVD August 7th
Studio: Walt Disney Home Entertainment
Synopsis: In the second installment in the Darkwing Duck collection, Darkwing Duck: Volume 2 DVD, quack crime fighter Darkwing Duck (aka Drake Mallard) and his loyal sidekicks Launchpad McQuack and Gosalyn keep St. Canard safe from a range of villains including angry Christmas trees, ancient pirates, and mutant cabbages from outer space! 27 episodes on 3-Discs provide plenty of laughs for the duck days of summer.
History: "Darkwing Duck" originally aired from 1991 to 1992 on "The Disney Afternoon" and simultaneously premiered shows on ABC's Saturday morning lineup. The series was nominated for a Daytime Emmy Award (1992, Outstanding Animated Program), a 1992 Annie Award (Best Animated Television Program) and a 1992 Young Artist Award (Outstanding New Animated Series). The cleverly-written series became known for its satire on superhero mythos and spoofed everything from Batman to The Green Hornet.
Voice Cast:
Darkwing Duck -Jim Cummings (Voice-Winnie the Pooh and Tigger, Too)
Launchpad McQuack – Terence McGovern (Duck Tales)
Gosalyn – Christine Cavanaugh (Rugrats)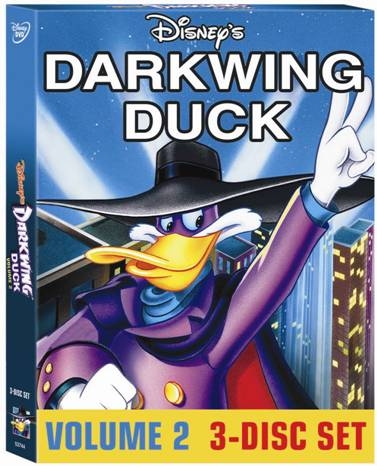 Darkwing Duck Volume 2 DVD Episode List:
All's Fahrenheit in Love and War
Whiffle While You Work
Ghoul of My Dreams
Adopt-A-Con
Toys Czar Us
The Secret Origins of Darkwing Duck
Up, Up and Awry
Life, the Negaverse and Everything
Dry Hard
Heavy Mental
Disguise the Limit
Planet of the Capes
Darkwing Doubloon
It's a Wonderful Leaf
Twitching Channels
Dances with Bigfoot
Twin Beaks
The Incredible Bulk
My Valentine Ghoul
Dead Duck
A Duck by Any Other Name
Let's Get Respectable
In Like Blunt
Quack of Ages
Time and Punishment
Stressed to Kill
The Darkwing Squad
STREET DATE: AUGUST 7, 2007
Direct prebook: June 12, 2007
Distributor prebook: June 26, 2007
Suggested retail price: $34.99 U.S./$37.99 Canada (3-Disc DVD Box Set)
Feature run time: Apprx. 612 mins.
Rated: U.S. "Not Rated"; Canada "G"
Aspect ratio: 1:33.1 Formatted 4x3
Sound: Dolby 2.0 Surround Sound
Languages: English, French Audio
---