Brak's Radio Interview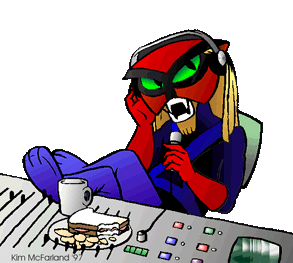 Brak was interviewed on February 25, 1997, on the radio station WGST in Atlanta. You can find a transcript of the full interview in Ghost Planet Central. Here are some snippets of sound for you to feast your, uh, ears on!
---
Brak arrives in the studio ballistically. (339K)
"Ooh, my bohunkus!" (10K)
"Oh, my bohunkus is throbbin' like the band!" (29K)
My chat with Brak about ice cream, the universe, and everything. (802K)
"All hail Kim!" (12K)
Brak tells us about his love life. (284K)
"I'm disgusted! I'm not readin' any more of this!" (20K)
Brak sings along with "Eleanor Rigby." (191K)
Brak talks about his clone. (203K)
"How about that Tech? Boy, can they not play basketball!" (31K)
Brak is cuttin' muffins. (25K)
"Potty mouth." (6K)
Is Zorak a pain to work with? (181K)
Part of "I Love Ya Baby" unplugged! (78K)
Brak talks about an upcoming album from Kid Rhino. (Note - they're referring to "Space Ghost's Musical Barbecue.) (181K)
"You'll all get it. I don't get it, but you all will get it." (33K)
Brak tells us why he is not more animated. (58K)
"Whaddaya doin' baby?" (10K)
Brak sings a bit of "Ave Maria" unplugged. (92K)
"Hey baby." (laughter) "Oh boy, I'm Barry White!" (57K)
Brak tells us about his home planet, Idaho. (115K)
Brak sings "The Twist" unplugged. (152K)
Brak asks a special favor from a graphic artist. (53K)
Brak blows a vocal cord while singing "Highway 40 Revisited" unplugged. (105K)
Who is Andy? (23K)
Brak sings "Howard Gunter is up with the news! Hey! Hey!" (32K)
"I want my heart to stop NOW!" (18K)
Can Brak walk straight without whiskers? (124K)
Who is Benny? *ahem* (78K)
Brak is a Jedi! (207K)
What do adults write in their letters to Brak? (53K)
"Holaaaa!" (15K)
"Yo tengo un balato. I have a ticket." (25K)
Brak sings "Bohemian Rhapsody" unplugged! (Note: I edited this a bit to remove some interruptions.) (421K)
"Okay, I've dug myself in a hole! I can't get out! Somebody!" (34K)
Brak doing Kate Hepburn doing Tom Petty. (66K)
Where did Brak study voice? (17K)
Brak tells us about what he'd like to do with his life after Cartoon Planet folds. (254K)
Brak gives us the dirt on Space Ghost. (214K)
Brak takes off his mask, to the horror of the radio DJs. (188K)
---
Brak is © Cartoon Network. HTML document © Kim McFarland.
Back to Brak's Scrapbook