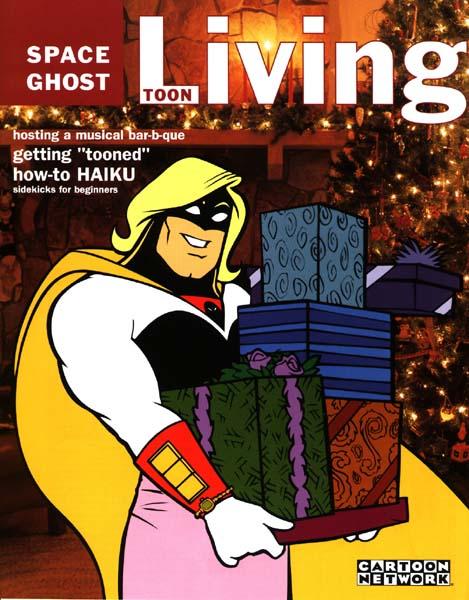 ---
A LETTER FROM SPACE GHOST
Well, it's that time of year again...the time of year when the year ends. And as I look back on the year that has been, I can't help but remember all the things I did just yesterday. First I cleaned the gutters, and boy were they icky! Next I re-mulched the entire Ghost Planet and planted bulbs for next spring. Then there was the knitting of the holiday socks for Zorak and Moltar, and the left-handed holiday mitten for Brak (making your own holiday gifts is both thoughtful and practical!) And that was all before lunch! Oh how I love to stay busy...and oh how I love to toot my own horn too...toot toot!

In case you hadn't noticed, I have been very successful this year. According to these Nielsen numbers in front of me, I've gained over 14 million homes this year, and I'm consistently a top-five rated network! I have the second-highest kids' share of viewing to all television programming, and Cartoon Network viewers spend an average of 4 1/2 hours with me a week...

Oh, wait a minute...those are Cartoon Network's numbers.

Let's see, other facts on this sheet of paper say that Dexter's Laboratory is Cartoon Network's #1 rated show...that's got to be a mistake...I need a new sheet of paper with some different numbers...more positive Space-Ghosty numbers...and with this sheet of paper I will make a delightful doily on which to serve a delicious holiday roast.

Ahem, this is more like it...I received a write-up in the October 26th New York Times Television Magazine. The article was accompanied by a very becoming photograph of yours truly, and included very flattering comments.

All of which I deserved...of course.

I have to go now to scent out and dig up some truffles for a party I'm hosting tonight...

Happy New Year...and such.

---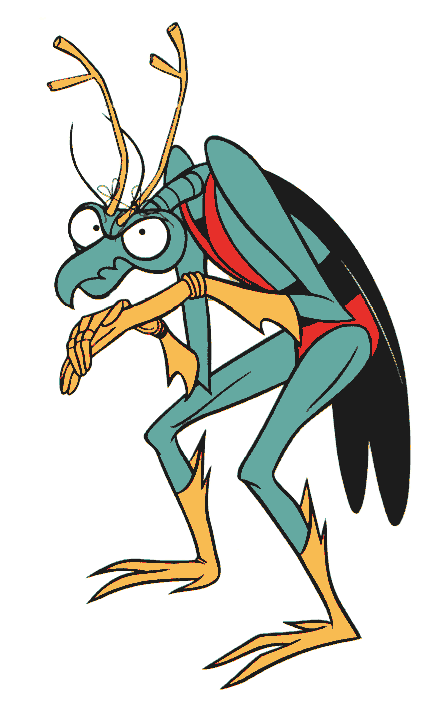 ---
| | |
| --- | --- |
| ask | Space Ghost |
| | ANSWERS TO QUERIES ABOUT STUFF |
SINGING SONGS
Dear Space Ghost,
Have you ever thought of singing songs like Leonard Nimoy and William Shatner did?
- Gertie
Dearest Gertie,
As a matter of fact, my first ever retail music release, "SPACE GHOST MUSICAL BAR-B-QUE" is in stores now. You can hear me belting out some Ghost Planet originals...along with some stuff that Brak and Zorak made too. My golden throated CD debuted at #26 on the kid audio charts. Now it has climbed all the way to #8. If you go buy it Gertie, I'll take you for a ride in the Phantom Cruiser, and we can listen to it hi-fi!
WATCHING SGC2C
Dear Space Ghost,
About how many people watched your show last month?
- Ed
Dear Ed,
It just so happens I know the answer to your question. Which is kind of funny, because lots of times when people ask me something...well, I just make up stuff to cover my ignorance. Ooooh you should see the look on people's faces when they ask me "Space Ghost, how are you feeling today?" and I reply with a prompt "Ummmm, Squishy!" Those are the good times I tell you. But Ed, for you I have an answer. A real answer. An answer backed up by the fine folks in my personal research department. The answer is: 25,000,000 people (That is twenty- five MILLION people) watched my show last month— the most ever, proving that my popularity just keeps on growing and growing.
SPRUCING UP
Dear Space Ghost,
I live in Seattle and your so-called "late night" talk show isn't late night here. What's up with that?
- Sleepless in Seattle and needing something to watch late night
Dearest Sleepless,
I hate the idea of you tossing and turning late at night without being able to watch America's favorite animated talk show— Space Ghost Coast to Coast, so I took it upon myself to speak with the big wigs at Cartoon Network on your behalf. (You know they listen to me because I'm such a big celebrity.) Of course, they saw things my way as they always do. Starting March 2, 1998, Cartoon Network will have a west coast feed that will be available to cable affiliates in both the pacific and mountain time zones, this will include your system in Seattle. The west coast feed will be available on Galaxy 1, Transponder 15, but you don't need to know all that intergalactic mumbo jumbo. The important thing is that you will be able to watch Space Ghost Coast to Coast every Friday evening at 11:30p.m., courtesy of Spacey. Ask and you shall receive!
APPEARING ON SGC2C
Dear Space Ghost,
How can I be on SPACE GHOST COAST TO COAST?
- Wanting to be on SPACE GHOST COAST TO COAST in Toledo
Dear Wanting,
Unfortunately, you can't be on my hilarious late-night talk show. You could have been, but now it's too late. I'm sorry Wanting to be on SPACE GHOST COAST TO COAST (If that is your real name...which I doubt...!) But if you really wanted to be on my show you should have written a brilliant haiku poetically explaining why during the "Haikuing for Space Ghost Contest." Two lucky viewers won the chance to be on my show. But you didn't. Ryah Rosenberg, age 17, and Sean Medlock, age 29, did though...and they won, and they'll be on my show airing at midnight on New Year's Eve! Here are their winning haikus:
I'll level with you;
Let me on the show, I want
a day off from school
-Ryah
I hope I don't win
The rules say to bring a friend
I don't have any
-Sean
---
Tips for Choosing a Sidekick - by Space Ghost
A good sidekick is like the pickle served with a hero sandwich. You know it's there, but you don't really pay attention to it. It is important to remember that by definition, a sidekick should be someone on the side...kicking. Any self-respecting hero or cartoon star knows the potential danger of an overzealous sidekick. If your sidekick upstages you, you run the risk of being relegated to "sidekickdom" yourself.
Here are four tips to insure that you keep your place in the spotlight, and your sidekick stays where he or she belongs: 1. By all means a sidekick should never be better looking than you...the uglier the better. To insure that everyone knows you are the star, make your sidekick wear ill-fitting garments. If they are prettier than you, make them wear a funny mask. 2. Try to find a sidekick that likes to do the mundane tasks that you feel are beneath you. This will help make you feel more important. 3. Make sure your sidekick is not as strong or as smart as you. Remember, they are just hanging around waiting for a chance to take over your mantle! (ed. note: That's why I keep Zorak locked up in his prison pod!) 4. Try to find a sidekick with a silly name, like "Bird Boy", "Oogoo", or "Boo Boo." Now go on, little superhero, and find that sidekick!
---
remembering
A Year for the Ratings
By Space Ghost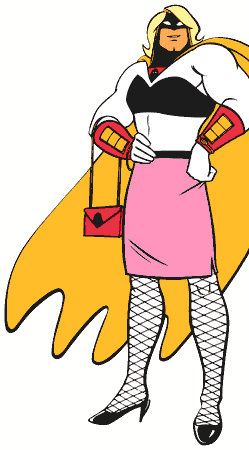 Being the editor of a slick high class magazine like Space Ghost Toon Living is both rewarding and painful at the same time. The rewarding part is knowing that I affect so many millions of readers, that I really help my community, and that I'm going to get that hefty paycheck.
The painful part is that, well, I am asked to do many things that I do not want to do. For instance, I wanted to fill this column with witty banter about the past year. Maybe a list of all the things that I got done that you didn't. Maybe another list of the things I am going to do next year that you could only dream about...
But no.
Unfortunately that will not be what you, the delightful reader, get to browse over in this column. Instead you will read about the ratings that Cartoon Network received in October. I wanted to tell you about me, but they want me to tell you about them...isn't that always the case!
Anyways, the ratings were very good for Cartoon Network in October. * According to Nielsen ratings the month found Cartoon Network tied for 4th place amongst basic cable networks for total day household ratings*. * In prime, Cartoon Network held on to its 7th place rank with a 1.3 rating.* In addition, there was an unbelievable 115% rise in Kids 2-11 delivery versus a year ago...a gain of 272,000 kids!* Hey! That's a lot of kids! Why, if I had a dime for every kid that Cartoon Network gained over last year I'd have...um...272,000 dimes!
There is other good news in the kid set for Cartoon Network's brand new series too. * Cow and Chicken improved Kids 6-11 viewership in its time slot 93% over last year.* * Johnny Bravo showed a 39% increase in the same age group and Dexter's Laboratory improved an amazing 107%!*
Of course, there do not seem to be any numbers here on my hilarious late night talk show Space Ghost Coast to Coast. I really must get to the bottom of this little dilemma...right now. Next year at this time, I'll be singing my own ratings praises!
Come here Nielsen, daddy's got a little power band for you to meet!
* Nielsen Media Research, Oct. 17 averages.
---
Space Ghost's Toon Living is a publication of Cartoon Network, Inc. A Time Warner Company, and has no affiliation with Martha Stewart Living or Martha Stewart Living Omnimedia. © 1997 Cartoon Network, Inc. Animated characters TM & © Hanna-Barbera Productions, Inc. All rights reserved.
---