Random Stuff
---
Cosplay | Wallpaper | Icons | Cursors | KiSS Doll | Hexadecimal the Flasher | S3 Custom Action Figure | Link to Hex Nuts Unanimous
---
For some people, it's not enough just to worship Mother Chaos. Katzedecimal wants to be her! And it looks like she's gotten a pretty good start. (The costume is a work in progress; the crown hasn't been completed yet.)
| | | | |
| --- | --- | --- | --- |
| | | | |
| "My format: Virus -- the Queen of Chaos!" | Aping the Season 2 promo poster pose. | Happy.... | ....Sad |
| | | |
| --- | --- | --- |
| | | |
| "I've even got my own icon! It's verrrrry pretty..." -- Yes, but the idea of "Guardian Hexadecimal' is kinda scary. | "I'm ready for my closeup now, Mr. Guardian..." | Eeeek! Nekkid Hex! |
---
Desktop Goodies: Wallpaper Tiles
Feel free to grab these and use them yourselves. If you happen to put them on a website I'd appreciate a mention as to where they came from... and I hope nobody's crazy enough to use that mask tile as a page background!
---
More Desktop Goodies: Icons
To use these, download the file and put it in the appropriate directory. This will be /windows/system/, unless you have a specific directory for icon libraries.
Now right-click the icon you want to change and select "Properties" from the Program Manager "File" pull-down menu. Hit the "Change Icon" button, hit "Browse", and go to the directory you saved the icon file to. You probably won't find the icon library on the list of "icon files" because its extension is .ICL (icon library) as opposed to .ICO (single icon). Not to worry. In the "File Name" area type in "*.icl" (minus quote marks) and it will show you all the .ICL files. Select the file you want, press OK, select the icon you want, press OK again, and hit OK again to finalize your choices.
Slack has made lots more icon sets! Check 'em out.
---
---
New!132 nulls for Windows computers. Too many to show normally, so I'm leaving the titles out. Like anyone can tell a null's expression anyway?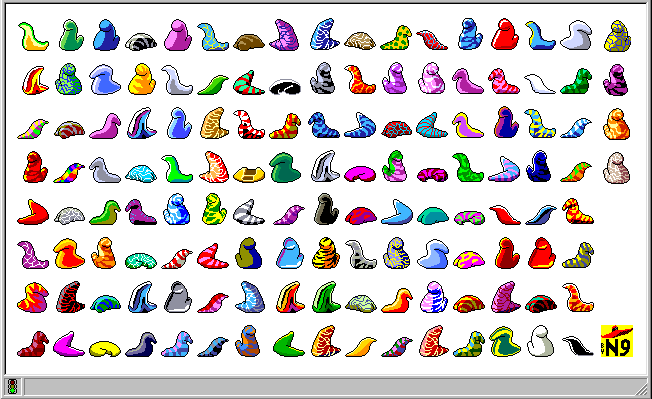 ---
New! Hex KiSS Doll
Slack has made several Hexadecimal KiSS dolls, plus some other KiSS sets in which Hexadecimal appears. They are in the KiSS page.
---
Hexadecimal the Flasher!
Or, more accurately, Flashed Hexadecimal! From the depths of Lar DeSouza's brain (and computer) comes a short flash movie starring Hexadecimal. If you do not understand the punchline... consider yourself fortunate.
---
Still More Desktop Goodies: Cursors
Save the cursors to your windows/cursors subdirectory. Then , under "settings",open your control panel, go to "mouse", then to the "pointers" tab. I suggest you use the spinning mask cursors as "waiting" cursors, because otherwise they get pretty distracting. The "hot spot" on these cursors is the top center of the image, unless the cursor has an arrow or pointing finger, in which case it's the tip of the arrow or finger (duh).
---
New! Finally, a S3 Hexadecimal Action Figure!
Nigel Sully created this beautiful cusom Season 3 Hexadecimal figure. Photos by Brian Doyle.
---

You can use this banner to link to Hex Nuts Unanimous. Click on it to get a copy, and link it to http://www.c4vct.com/kym/slachash/hexnuts
---