Slack's Page of Shamelessness
---
Some people have been kind enough to give this site, or the stuff they found on it, awards. Without being asked. Well, at least not by me. I may be shameless, but I'm not THAT shameless!
Anyway, after someone took all the trouble to make these pretty awards it'd be rude of me not to use them, wouldn't it? And that would be bad. Very bad. So I'll be a nice bot and post these awards! *
---
New! Unofficial ReBoot Awards 2004
I was nominated for a few awards this year as well. Here are my Cool Nominee Graphics.
---
Unofficial ReBoot Awards 2003
Hey! I got a few awards! One regular URA for Best Music Video (Holding Out for a Hero), one Judge's Award (for Best ReBoot Icons), and one for being nice and making the nominee graphics. Not bad. :)
And to make it even better, I was nominated for 11 other categories...
---
Unofficial ReBoot Awards 2002 Nominations!
Lookit all the categories I was nominated in... kinda got a Brady Bunch thing going on there.
I didn't actually win anything - always a bridesmaid, never a bride this year - but, hey, at least I got nominated!
---
How'd I get THIS?

MothGlitch452 has given me an award for remaining calm under pressure. Heh, I don't know what I did to earn that, but I ain't complaining. Click on the thumbnail over there to see the full-sized, animated version.
---
Fic Award

Fidget Wilson of Lost Angles likes my stories enough to make me a graphic saying so! Thankee. (Click on the thumbnail to see it full-sized. If you wanna.)
---
Another Award

I'll let "The Infernal Jynk's Infernal Award" here speak for itself. But it's BIG, so if you want to see it you'll have to hit that thumbnail over there.
---
URA 2001 Awards
Once again the Unofficial ReBoot Awards voted me some goodies. My existence is once again validated!
| | |
| --- | --- |
| | |
| Most Original Site | Best Series |
And we also snagged a few other nominations, which ain't nothing to spit at neither...

Best Site Design
Best Site Content
Most Humorous Site

Best Single Story
(Viroid Mary)

Best Site Of the Net
Muchos gracias to everyone who voted for me!
---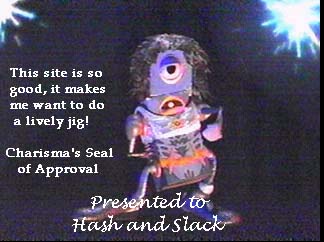 Singing and Dancing My Praises
Here's someone who really knows how to massage my ego.Charisma, the perpetual newbie, not only gave me Charisma's Seal of Approval, she also wrote a little ode to Slack and Hash. You can find that in the Links section of Charisma's Game. Or you could, back when it was online.

---
Icon Think of Anything to Say!
Julia_Cat, owner of Julia_Cat's Reboot Corner, gave my site a Golden Icon! Does that mean my site is a Guardian or something?
(No, I'm not laboring under the illusion that that joke was actually funny.)

---
An Award for Being a SmartASCII!
Meghan Wilk, webmistress of the now-deleted site "The Infection," gave me an award for coming up with a caption. Here are both the award and the picture. The caption says "This corset is KILLING me."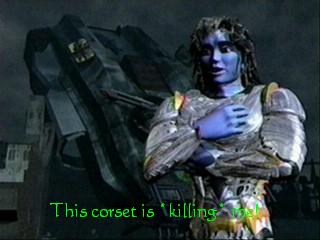 ---
I Don't Suck!
Meghan said on the "Does Not Suck" of her now-deleted site "The Infection" that my "West Secor Story" series lacks the quality of suckiness, and went so far as to make a graphic to prove it.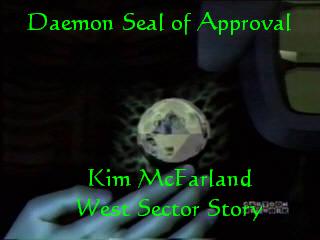 ---
Fanaticism pays off!
Mayhem Matrix has awarded me the coveted Hexadecimal Fanatic Award. What did I do to earn it, you may ask? Go to the ReBoot Hall of Fanatics to see. Or, heck, just look at my fanfic and fanart pages. 'Nuff said.

---
Site Pick of the Unit of Time!
According to Julia_Cat, my website is so cool it deserved the honor of being the Fanfic Site of The Moment! Wow. But my question is... is that a Mainframe moment (to us, a nano-moment) or a User-time moment?

---
The URA Awards
These are fan awards, nominated by the fans, voted on by the fans, judged by, uh... I guess a small subset of fans. Here's what they found Slack & Hash's Domain worthy of:

| | |
| --- | --- |
| | |
| Best new site | Best fan artists |
<cliche> You like us! You really like us! </cliche>
Oh, and we got "shortlisted" for a few things too. "Shortlisted" means "Nominated," or "Close, but no cigar." Hmph! Can't win 'em all. But considering the competition, Slack can't feel that bad about it. Certainly not too bad to brag shamelessly about it.
| | | | |
| --- | --- | --- | --- |
| | | | |
| Best Site Content | Best fanfiction (Viroid Mary) | Best Writer | Best Site on the Net |
---